Woogie – April 15, 1990 – August 27, 2010
---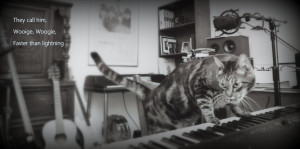 ---
Just days before Laurie was scheduled to leave for a week in Mexico, our vet suggested we read up on a condition she said was in Woogie's future: acute renal failure. When I did the homework, my world fell down. As nature took its course, it was a question of how much heart he would have and for how long. He could be with us a few more months or as long as a couple of years.
I had planned to do some writing while Laurie was gone, but now suddenly the work had focus. I thought how purrfect it would be if the last project Woogie heard me work on was a tribute to him. It was a glorious early spring week, much like the one at the beginning of our life together. I knew the time was a gift, and I went to the piano.
When I had finished demoing seven songs, using the seven keys I depend on for most of my writing, a strange thing happened. I looked at Woogs, and it seemed I could read his mind. "Look dad, you're on a nice roll here. I appreciate what you're doing, but if you're going to continue with this 'tribute' thing, you should write in keys you never write in. You should get something out of this too! You should stretch yourself! You'll thank me later." I realized he was right and returned to writing in uncharted keys. The value of the exercise amazed me! And once the emotional trip was over, I realized I had created my own 12-step program for grieving pet owners — 12 songs in 12 keys — all smothered in grief as I sobbed through the writing of each one. Tough gig.
But for now, Woogie seemed fine. I still saw him chasing his brothers across the backyard, still nimbly jaunting up and down our two sets of stairs, still grooming himself — to my endless delight. He was still top cat, although it wasn't long before I could see him growing ever so slowly thinner. He found it harder to keep his balance, was less eager to jump on the bed, and his beautiful coat started to lose its sheen.
His morning walks around the backyard became more poignant. We finally put the cat stairs next to our bed, and he began to use them. He tried so hard to do what had always worked for him. Whatever he was called upon to endure, he did with perfect grace.
At some point in Woogie's adolescence, we had started using the Flipper TV theme song to call him in for the evening. Laurie and I would step onto the patio and sing at the top of our lungs, "They call him Woogie, Woogie, faster than lightning!", and he always came running, faster than lightning. Now I made a point of singing this to him, very quietly, over the last few days of his life. I wanted to ring the bell of his memory and let him know that he would always be my beautiful boy, always "faster than lightning."
The last few times he came to jump on my lap as I worked at my desk, I knew my chances to hold him close were slipping away. On August 26th, I watched Woogs struggle to make his morning rounds in the backyard. I knew he was saying goodbye to his home. It was a profound thing to watch, as he struggled and faltered several times, and had to lie down and rest on a steep hill. He lay there for a good long spell, his tummy on the cool dirt, peacefully gazing across his backyard. He sniffed the air, listened to the birds chirping away, and watched his brother Philip make the rest of the trip by himself for the first time. Philip had always followed a respectful distance behind Woogie on the backyard trek. It was a longstanding, two-cat ceremony that involved covering the edges of our entire fenced boundary. Woogie said goodbye to our backyard that morning.
When people found out Woogie was gone, most had a similar response. "You always think they're going to live forever, you never think you'll lose them." On the contrary, I began having emotional spells over Woogie's mortality years before I had any reason to. And I think if I'm still kickin' 20 years from now, I will feel the grief as easily as I do today. Over Woogie's last months, my heart found a new way of breaking, and I gave it a voice through music. I hope you enjoy this tribute in song that came to me one week in March, 2010. A burst of music for a wonderful cat. Simple as that.
GO / Easter – April 24, 2011